ANNIEMAC A "TOP WORKPLACE" FIVE YEARS RUNNING
Mar 29, 2017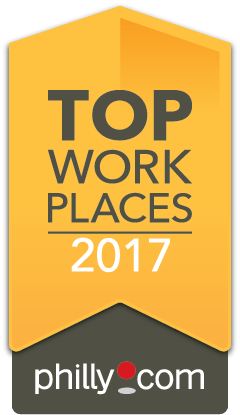 For the fifth year in a row, AnnieMac Home Mortgage has won a 2017 Top Workplaces award from Philly.com. The award recognizes 125 Philadelphia-area companies based solely on the results of an employee feedback survey.
The award is not a popularity contest, according to Doug Claffey, CEO of WorkplaceDynamics, LLC, the research firm that conducted the surveys. Nor is it all about fancy perks and benefits.
"To be a Top Workplace, organizations must meet our strict standards for organizational health," Claffey said. "And who better to ask about work life than the people who live the culture every day — the employees. Time and time again, our research has proven that what's most important to them is a strong belief in where the organization is headed, how it's going to get there, and the feeling that everyone is in it together."
AnnieMac Home Mortgage is based in Mt. Laurel, N.J. Since its founding in 2011, the company has emerged as a major national lender, with branches nationwide.
According to WorkplaceDynamics, the following are some of the reasons that survey respondents provided for why they like working at AnnieMac:
"The people care."

"The people and the culture. I've never had a job I enjoyed going to every morning until starting here. It is truly such a great company."

"Their humility."

"That you can feel that all levels of management operate with strong values and ethics."