Toys For Tots Campaign Helps Area Children
Dec 12, 2016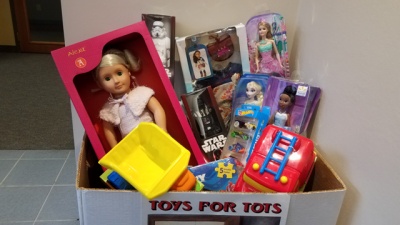 AnnieMac Home Mortgage chipped in to make the holidays special for some area kids during the Culture Committee's 6th Annual Toys for Tots Campaign.
According to Kathleen Dixon, AnnieMac employees contributed 70 toys in the bins placed around the offices from Nov. 9 to Dec. 9 — everything from Star Wars action figures, to toy cars and trucks, to dolls, to educational toys.
The national Toys for Tots program, run by the United States Marine Corps Reserve, collects new, unwrapped toys, which are distributed to children in the community whose parents cannot afford to buy them gifts. AnnieMac was working with the Marine Corps League, Burlington County Detachment No. 695.
"It feels great that we are able to help bring smiles to children in our community," Kathleen said.